Born in 1974 in northern Ontario, I had zero control over whether I would play hockey, and even less control over whether I would be a lifelong fan. So it stands to reason that as a kid I collected hockey cards, and this continued long after realizing I would never aspire to the NHL (something that happens quite early on for most).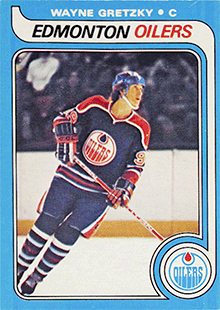 Growing up, most of my friends and teammates were Leafs fans, but I grew up an Oilers fan because of – who else? – Wayne Gretzky. I had several copies of his rookie card (1979-80), all of his second year cards (1980-81), and literally dozens and dozens of his cards from 1982 through 1985. I didn't collect just Gretzky, but his were the cards I coveted the most. I tried unsuccessfully to complete the full 396-card set each year, though I did always seem to manage to either pull or trade for all the Gretzky cards.
Then, at some point before the 1985-86 cards were released, my mother did the unthinkable. Having grown sick of seeing hundreds of loose cards on my dresser, stacked and sorted by number or by team, she swept the whole lot into a garbage bag, never to be seen again. While today I can't possibly blame her, since she did warn me multiple times, back then, I was devastated. As a kid those cards were virtually irreplaceable, because you could no longer buy packs from previous years, and the one card shop that existed charged huge premiums on the more popular players.
So, I didn't do much collecting after that. In fact I remember when Shawn Veltri's dad, Vic, came over and showed me his cards from the late 50s and early 60s, letting me keep all of his doubles. We're talking a Bobby Hull rookie, Maurice Richard, Gordie Howe, and other amazing specimens. Cards that I should have put in a safety deposit box or time capsule, I promptly took to Collectors' Corner on Cassells Street, and traded the whole lot for a worthless box of baseball cello packs. Because back then, the real thrill was ripping open packs of the unknown, and that was more exciting to me than a bunch of beaten up cards depicting players I'd never actually seen play outside of grainy bits of old film. To this day, quite possibly the dumbest thing I've ever done. Vic, if you're reading this, I'm really sorry.
In my 20

s

…
…I was nostalgic about some things. Still am. Music from certain artists, Roots clothing, and those damned hockey cards. Based on my memory of what I had, and a very optimistic estimate of their condition, I calculated at some point in my 20s that the book value of that collection today would have been north of $60K. But to be honest, I didn't care about the value; I actually missed having the cards, being able to look at a player's stats, and hold that beloved cardboard in my hands.
So, having a job slightly more prosperous than that pre-teen combination of allowance, babysitting, snow-shoveling, and lawn-mowing, I started collecting the sets again. But not the hard way. It wasn't too difficult to find people on eBay willing to sell complete, hand-collated sets of 1980-81, 1982-83, 1983-84, and 1984-85 O-Pee-Chee, as well as 1980-81 Topps (the only Topps variation of the 1980s different enough to care about; more on that later). 1979-80 wasn't nostalgic enough for me to justify the premium that complete set commands (it has the last Hull and Howe cards, and seems a little tougher to collate in decent condition). I do have three copies of the Gretzky rookie from that set though: an O-Pee-Chee graded PSA 6, a Topps graded PSA 6, and an ungraded O-Pee-Chee (first run).
When I first moved to Rhode Island in 1997, I was able to become a true hockey fan again. Watching on TV had always been great, but one thing I could never do when I lived in Canada was go to games. The Maple Leafs played 4 hours away, rarely entertained my team, and it was impossible to get tickets for that small arena anyway. The Boston Bruins, however, 25 years removed from their last Stanley Cup, were suddenly both affordable and easy to get to (an hour against rush hour traffic). The first few years I was here and they made the playoffs, I went to every single playoff game, because you could buy face value tickets from the box office. Since 2011, that has become a lot tougher, but before moving to North Carolina, I still went to a few games a year. I even shelled out the big bucks for both Boston Winter Classics (first, at Fenway Park against the Flyers, and then, at Gillette Stadium against the Canadiens).
And then…
It was the Stanley Cup year that inspired what has ultimately led to this blog. I'm sorry for taking so long to get to the point, but I feel that the background is relevant and, hopefully, interesting. At some point during those 2011 playoffs, I saw some grainy video of 1950s players like Milt Schmidt and Bill Quackenbush. And I suddenly had this crazy thought:
"Wouldn't it be cool to have all of the Bruins cards from the 1951-52 Parkhurst set?"
1951-52 Parkhurst is one of the tougher post-war sets, and has some gorgeous cards of Gordie Howe, Bill Barilko, and Maurice Richard. It was the first hockey release available after about 1940, and since all the cards before that are really hard to find, I thought it would be a challenging but plausible set to pursue.
As I started collecting the Bruins players from that release, I discovered that other Bruins cards from later sets were easier to come by. In fact, while it was the first set I *started,* it wasn't the first set I completed – that was 1954-55 Parkhurst. So then I thought:
"Wouldn't it be cool to have all Bruins cards from 1951 on?"
That was a lot more ambitious, and because almost everything after the 1989-90 season is mass-produced garbage (1990 is when O-Pee-Chee/Topps lost their exclusive contract with the NHLPA), I whittled it down to the much more reasonable, but still ambitious:
"Wouldn't it be cool to have all Bruins cards from 1951-52 through 1989-90?"
So, off I went. At first I went after the four major Parkhurst releases from 1951-52 through 1954-55. I learned that Parkhurst and Topps had somewhat of a feud in the mid-50s – Topps came out of the gates in 1954-55 producing cards featuring only American teams, and Parkhurst started producing cards featuring only the two Canadian teams at the time – the Toronto Maple Leafs and the Montreal Canadiens (later, they would add an American team, Detroit). After 1954-55, there wouldn't be another Parkhurst card featuring a Bruin until the 1990s. Topps resumed featuring all six teams in the 1964-65 "Tall Boys" set, the year Parkhurst started a nearly 30-year hiatus.
I went for Topps from 1954-55 through 1967-68, which produced a single card set for both the U.S. and Canada, and then in 1968-69 O-Pee-Chee started producing its own bilingual version for Canadians, so I switched to that for 1968-69 through 1989-90. Then I realized that many of the Topps sets in that range were not quite identical to their O-Pee-Chee counterparts – aside from the lack of French writing on the back, there were also several cases where staggered printing dates led to different pictures or team designations for traded players, and larger O-Pee-Chee sets for the bigger Canadian market often led to cards that only appeared in one set or the other. So I went after all the Topps team sets as well.
And now…
…it's 2018, and – with a few forgivable exceptions – I'VE DONE IT. Every mainstream card from Parkhurst, O-Pee-Chee, and Topps, from 1951 through 1990. Every error and variation. Inserts, box bottoms, stickers, stamps, even a bunch of food and gas station releases. Several cards not considered part of the Bruins team set, but that feature a traded player still in a Bruins uniform (or not yet into it). And all the set checklists from the 1960s, 1970s, and 1980s, including a scarce Tembec test release from 1989-90. The posts on this blog will document and showcase each of these team sets, which will be totally boring for everyone except the most dedicated Bruins and/or hockey card fans. I have kicked off with several sets documented, a project I actually started back in 2016. As time allows, I will document the rest.
Credit to the Inventor theme (which I have completely bastardized here) and props to Mary Lou for the idea for the CSS link styling.